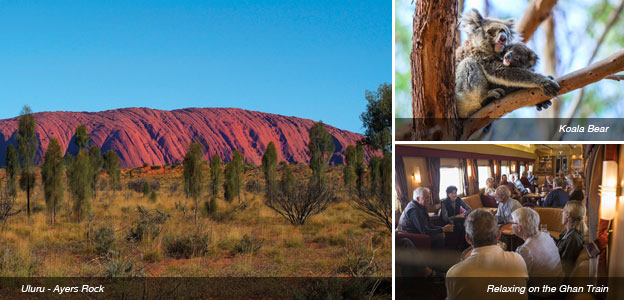 8 Days of Australia's Red Centre Adventures
Ghan from Adelaide to Alice Springs & Uluru
16th – 24th September 2016.
Prepare for a train journey of unimaginable proportions as the legendary Ghan takes you deep into the heart of Australia. Enjoy the comfort and solitude of your private cabin, lose yourself in conversation with newfound travelling companions, or simply gaze out of the window taking inspiration from the ever changing landscape.
And when the train stops along the way, the adventures begin. Experience the dramatic scenery of central Australia from your carriage window, or on the back of a camel, explore the ancient awe-inspiring wonders of the Northern Territory, the mysticism of Uluru, magnificent colours of nature, Aboriginal culture not forgetting the wildlife & wildflowers in a vast Red Desert.
If this has been on your bucket list now is the time to take advantage of this opportunity.
You get to explore Adelaide and Sydney as well – join us on this fantastic once in a lifetime journey.
Day 1 –  Fly to Adelaide
Day 2 – Adelaide
Free Day in Adelaide for sightseeing
Days 3 – 4  Ghan to Alice Springs
(overnight on train)
Transfer to train station – Board your train in the stylish and sophisticated city of Adelaide for the start of your epic adventure to the heart of Australia and its famous outback town Alice Springs. Adelaide's rolling green hills give way to more rugged views, the spectacular Flinders Ranges, ahead lies the remote and vast wilderness of ochre earth, Australia's red centre home to the vibrant and historic town of Alice Springs.
Day 4 – Alice Springs
(1.45 pm) As you arrive into the Red Centre of Australia you can still sense the strong pioneering outback spirit of Alice Springs. You will be transferred from the Ghan railway station on arrival in Alice Springs to your Alice Springs hotel. You can relax and use the rest of the day to explore your hotel and its facilities, perhaps take a stroll around the neighbourhood and central Alice Springs.
Day 5 Alice Springs
Free Day to Choose your own tour options
Alice Springs is situated in Australia's red-centre, boasting modern facilities this vibrant town forged by the pioneering spirit and steeped in Aboriginal culture is surrounded by a landscape of stunning natural beauty, the gorgeous ochre mountains of East and West MacDonnell Ranges lie in close proximity.
Choose from the many tour options or enjoy some free time to explore Alice Springs, taking advantage of the great facilities.
Day 6  Alice Springs to Uluru (Ayers Rock) Base Tour & Sunset
Travelling south you'll stop to visit a camel farm where there is time for a short camel ride (own expense). Later stop to view Atila (Mt. Conner) often mistaken for Uluru, before arriving at Ayers Rock Resort.
This afternoon, join your Driver Guide for a drive around the base of Uluru. Continue to the Kuniya Walk, where you will be guided to the Mutitjulu Waterhole. This waterhole was a key source of water for the Aboriginal people in the area and had been in use for many thousands of years. See Aboriginal rock art and hear about the Aboriginal and European history of the area.
Visit the Uluru – Kata Tjuta Cultural Centre. It houses an amazing collection of original paintings and punu (woodwork) that provide an insight into the unique and spiritual culture of the Anangu people, the traditional custodians of Uluru. Late afternoon, travel to the Uluru sunset viewing area. Witness and photograph the striking colour changes of Uluru at sunset while enjoying nibbles and sparkling wine.
BBQ DINNER After sunset, join us under the stars at our exclusive venue. Enjoy sparkling wine on arrival, then dine on a menu of steak, lamb sausages, chicken skewers and garlic prawns, salads and a tasty dessert. All accompanied by a selection of wines, beers and soft drinks. There's time for stargazing too (weather permitting).
Day 7 Discover Uluru at Sunrise – Kata Tjuta – Farewell from Uluṟu (Ayers Rock)
Magnificent Uluru is steeped in mysticism, one of the world's greatest natural creations. This ochre monolith inspires and impresses, sacred to the Aboriginal people this most iconic of Australian landmarks lies in the country's red-centre.
Rise early to watch the first rays of the sunrise over Uluru and the Red Centre alight. Make your way to the viewing platform to see many kilometres into the distance, providing an ideal photo opportunity. Later, travel to the mystical domes of Kata Tjuta (The Olgas). Continue to the base of Walpa Gorge. Spend time exploring the gorge and the unusual conglomerate rock formations. The walking trail through the gorge follows the natural creek bed between two of the tallest domes of Kata Tjuta.
In the afternoon you will be transferred to Ayers Rock Airport (flights to depart after 12.30pm)
Arrive Sydney at  5.20pm .
Day 8
Free Day to Explore Sydney or visit friends and or family or just shop
Day 9
Depart for NZ – Transfers to airport included.
Package Includes:
2 Nights' Accommodation & Breakfasts in Adelaide

Ghan Train to Alice Springs

1 Night Gold Cabin Accommodation on Ghan All meals on board Ghan, FREE   beverages throughout your journey, FREE toiletries kit, Cabin Steward service, in-cabin music and commentary.


2  Nights' Accommodation in Alice Springs including  Breakfasts

1 Nights' Accommodation in Ayers Rock including Breakfasts & Dinner


2 Nights in Sydney, including breakfasts.
Luxury Day Tours:
Alice Springs to Uluru Coach Tour

From Alice Springs to Uluru, including drive around the base, a Kuniya Walk guided to Mutitjulu Waterhole, visit Kata Tjuta Cultural Centre, Aboriginal rock art, sunset viewing of Uluru and desert BBQ dinner

Drive Around Base of Uluru

Enjoy watching the Sunrise on Uluru and experience the Red Centre alight. Make your way to the viewing platform to see many kilometres into the distance. Later you travel to the mystical domes of Kata Tjuta (The Olgas). Continue to the base of Walpa Gorge.


Flights from Ayres Rock (Uluru)  to Sydney.
Register interest quickly to secure your seat.
Tour #


695




Price

$5856.00 per person Twin Share. Single Cost + $900.00

Duration



8 Days. 16th – 24th Sept 2016


Payment

$300.00 per person Deposit to secure your place ASAP, balance 30 days prior to departure

Price Includes

See information at bottom of  itinerary.

Not Included

All Flights
Flights to Adelaide & from Sydney to Auckland are NOT Included.
You probably have a preferred airline to fly with however we are happy to quote and arrange these for you.