12 DAYS – FULLY ESCORTED and INCLUSIVE
| | |
| --- | --- |
| Tour # | DC3 |
| Price | NZD $8,975 Per person; share twin. Single room supplement: NZD $1,290 |
| Duration | 12 Days. Two departures – 12 February 2016 and 11 March 2016 |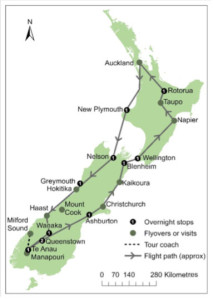 Don't miss this exclusive opportunity…
New Zealand – from above! … Leisurely paced, lower altitude air cruising that lets you see it all – 12 days, 12 flights and an adventure like no other… Fly in 'ZK-DAK' operated by Fly DC3 New Zealand and enjoy the capable care of a professional, highly experienced flight crew – two pilots, a flight attendant and a tour director.
Only 24 passengers per tour so do not miss this amazing opportunity!
YOUR DC3 AIR TOUR AIRCRAFT – 'ZK-DAK'
Whether you think of her as a DC3, a C47 or a Dakota, 'ZK-DAK' is a familiar sight in Auckland skies on Sunday mornings. Operated by 'Fly DC3 New Zealand', her two Pratt & Whitney engines draw eyes skywards as she hosts and entertains her passengers on frequent sightseeing flights. Her other roles include attendance at air shows throughout New Zealand and she is popular for charters, team building events, special interest flights and more.
Her history goes back to 1944 when she was built in Oklahoma City as a C-47B by the Douglas Aircraft Company. She saw service in the continental United States before being converted to a C-47D aircraft in 1946. Later service included wartime and civilian airline roles in Japan, the Philippines, Hong Kong, New Guinea and Australia. In 1987 she was purchased by a group of New Zealand pilots and Warbird members and brought to New Zealand for an extensive rebuild.
Today, ZK-DAK is one of a very few DC3 aircraft worldwide that is fully maintained and operated with an Airline Operating Certificate (AOC).
Her captains and flight crew are current or former airline or air force pilots and cabin crew are also current commercial airline staff.
Annual crew training and checks ensure ongoing professional Civil Aviation operating standards are fully maintained.
WHY CHOOSE A DC3 FOR THE AIR TOUR?
The DC3 is a classic design that revolutionised air travel in the years leading up to WW2 andbeyond.This immortal aircraft featured the very best design elements of her day and is often regarded as one of the most significant transport aircraft ever made.She flies comfortably at a sedate speed and a lower altitude and that makes her an ideal platform for air touring and aerial sightseeing.
Inside ZK-DAK you will find a pleasant, commercially styled cabin with a single aisle and two seats either side of the aisle. The seats are from a Boeing 767 aircraft and include standard airline seat belts. Cabin bags are stored under the seats as there are no overhead lockers. Generous square shaped windows offer good outside viewing and photo opportunities.
HIGHLIGHTS & INCLUSIONS
• 12 leisurely paced, lower level flights in a classic fully operational DC3 airliner with a professional crew of two pilots and a flight attendant
• Tour Director – fully escorted tour
• 2 night stopover in Queenstown with one full 'free time' leisure day
• 4 & 5 star hotels (twin share). *Note: two hotels are 3-star plus; the best available in each location
• 22 Meals: Breakfast (11), Lunch (1), Dinner (10)
• Luxury coaches and transfers
• Air and ground sightseeing per itinerary (including three cruises)
• New Plymouth City sights including Puke Ariki
• Nelson Saturday Market
• World of Wearable Art & Classic Car Museum in Nelson
• Hokitika Jade Gallery
• Shantytown and gold panning
• Monteith's Brewery
• West Coast Glaciers and Aoraki Mt Cook from the air (weather permitting)
• Warbirds and Wheels in Wanaka
• Puzzling World
• Milford Sound road by luxury coach and a Milford Sound Cruise including lunch
• Underwater Observatory in Milford Sound
• Tour of Queenstown, Arrowtown, Lake Hayes and Gibbston wine area
• Gondola ride to Bob's Peak
• Cruise Lake Wakatipu aboard the vintage steamer TSS Earnslaw
• Ashburton Aviation Museum
• Christchurch from the air
• Kaikoura Coastline from the air
• Omaka Aviation Heritage Centre with Sir Peter Jackson's WW1 aircraft collection
• Pelorus Sound Greenshell Mussel Cruise including a mussel farm visit, mussel tasting and Marlborough Sauvignon wine
• Blenheim Sunday Farmers Market
• Marlborough Winery visit and wine tasting
• Moa Brewery visit and tasting
• Makana Chocolates and tasting
• Wellington City sightseeing visit including Te Papa Museum, Parliament, the CBD, Mt Victoria and the Waterfront
• Napier landing and city sightseeing tour
• Lake Taupo from the air
• Sightseeing tour of Rotorua
• Te Puia including Whakarewarewa geothermal valley
• A Maori Show and dinner
• Rainbow Springs
• Rotorua Museum
• The Agrodome
Day 1 DC3 flight
AUCKLAND to NEW PLYMOUTH Dinner
Mount Taranaki, near New PlymouthLeave Auckland Airport aboard your DC3 and enjoy coastal views and countryside as you fly south to New Plymouth. Land at New Plymouth Airport where a tour coach will meet you for a sightseeing tour including Puke Ariki, Len Lye's Wind Wand, Te Rewa Rewa Bridge, the Coastal Walkway, Pukekura Park, Paritutu Rock and the Sugar Loaf Islands. And we hope that majestic Mount Taranaki will form a splendid backdrop to it all!
PLYMOUTH INTERNATIONAL HOTEL (4-star)
Day 2 DC3 flight
NEW PLYMOUTH to NELSON – Breakfast & Dinner
Depart New Plymouth by DC3 and cross Cook Strait. Land in Nelson and visit the fabulous Nelson Saturday Market (with 200 plus stalls), then the World of Wearable Art/ Classic Car Museum and more. New Zealand's very first game of rugby was played here in 1878 and Nelson is also the geographic 'centre' of New Zealand. Nelson City sits very slightly north of Wellington and was once seriously considered as a location for New Zealand's capital city.
RUTHERFORD HOTEL (4-star)
Day 3 DC3 flight
NELSON to HOKITIKA/ GREYMOUTH – Breakfast & Dinner
Fly from Nelson today by DC3 and turn first towards Murchison then further south to cruise above the scenic West Coast. Land at Hokitika where a coach will meet you for some local sightseeing that will include a visit to a jade gallery and a chance to see local artisans at work. Visit Shantytown later and try your luck at gold panning. Enjoy more of Shantytown's delights then drive to Greymouth for a visit to a renowned local attraction; Monteith's Brewery. Enjoy some onsite tasting opportunities while you are there.
ASHLEY HOTEL (4-star)
Day 4 DC3 flight
HOKITIKA to GLACIERS and WANAKA – Breakfast & Dinner
Return to Hokitika Airport and board your DC3 aircraft. Take off and head south along the West Coast. Weather permitting, today will potentially be truly spectacular with amazing mountain views. Marvel at mighty glaciers as you view them from above; see Franz Josef Glacier then Fox Glacier as you fly ever further south. Hopefully our highest mountain Aoraki Mt Cook (3,724 metres) will make an appearance in all its considerable glory – 'Aoraki' is often translated as "cloud piercer". Turn inland at Haast then lakes Hawea and Wanaka should come into view before you land at the picturesque town of Wanaka today. The famous 'Warbirds over Wanaka' event next occurs here in late March 2016. Today you will see 'Warbirds & Wheels' and 'Puzzling World' and there will be time to wander along the pretty lakefront – remember to take your camera!
EDGEWATER RESORT (4-star)
Day 5 DC3 flight
WANAKA to TE ANAU, MILFORD SOUND – Breakfast, Lunch & Dinner
Take off from Wanaka this morning and fly south over Queenstown and beautiful Lake Wakatipu to land at Te Anau Airport (Manapouri). Board a luxury coach at the airport and drive to Milford Sound along New Zealand's most scenic mountain road! Rolling farmland and 400 metre deep Lake Te Anau (New Zealand's second largest lake) yield to soaring mountains that rise above you on both sides as you climb towards the Homer Tunnel (altitude; 945 metres). Descend through the Cleddau Valley and back to sea level. Meet your cruise boat and explore the grandeur of Milford Sound and Mitre Peak (lunch is included as you cruise today). Enjoy the spectacle of this natural masterpiece carved out by the power of gigantic ice-age glaciers. We hope you may see seals and possibly even dolphins if you are lucky today.Two permanent waterfalls grace Milford Sound – 162 metre Bowen Falls and 580 metre Sutherland Falls. However Fiordland's frequent rainfall often produces many more waterfalls to enhance the intrinsic beauty of this breath-taking region.
Complete your Milford experience with a visit to the fascinating Underwater Observatory in Harrison Cove and explore the beauty beneath Milford Sound without getting wet! Return to Te Anau by coach this evening.
DISTINCTION HOTEL TE ANAU (4-star)
Day 6 DC3 flight
TE ANAU to QUEENSTOWN (2 nights) – Breakfast & Dinner
Lake Te Anau, Lakefront WalkA short DC3 flight today from lovely Te Anau. Enjoy views of delightful Lake Manapouri then fly to scenic Queenstown, framed by the 'Remarkables' mountain range and nestled beside beautiful Lake Wakatipu. Land at Queenstown Airport where a coach will meet you for a sightseeing tour of local highlights that will include the old gold town of Arrowtown, Lake Hayes, the Shotover River, Gibbston wine area and more. Ride a gondola to Bob's Peak later and cruise the lake on the 'TSS Earnslaw', an iconic Edwardian era twin screw steamship that has been faithfully serving this Lake District since 1912. Enjoy free time later to explore the picturesque town and lakefront.
ST MORITZ HOTEL (4-star)
Lake Wakatipu, Queenstown
Day 7
QUEENSTOWN AT LEISURE – Breakfast
No DC3 flight today so relax or explore as you wish! Try some optional activities – we can help you to choose something to suit your preferences… There are many water-based, land-based and even 'air' activities that offer excitement and adventure plus a range of more passive options. Many activity operators operate shuttles from central Queenstown and there is a local bus service available too. Maybe you might like to explore the shopping opportunities. Your hotel is close enough to the town centre for you to take your time, walk to the lakefront or spend the day and evening as you prefer. Dinner has not been included today so take the opportunity to try one of the many local dining options in Queenstown.
ST MORITZ HOTEL (4-star)
Day 8 DC3 flight
QUEENSTOWN to ASHBURTON – Breakfast & Dinner
Take off from Queenstown aboard your DC3 and enjoy impressive views as you climb out from New Zealand's most scenic regional airport. Mountain scenes give way to glacier fed lakes as you fly northeast towards the Canterbury region. The Canterbury Plains produce around 80% of New Zealand's grain crops and offer a colourful 'patchwork quilt' view from the air. Land on the plains in the mid-Canterbury town of Ashburton where a coach will meet you for visits to local points of interest. Visit the impressive Ashburton Aviation Museum and a selection of local attractions.
ASHBURTON HOTEL (3-star)
Day 9 DC3 flight
ASHBURTON to BLENHEIM – Breakfast & Dinner
Fly out of Ashburton aboard your DC3 and head north to see Christchurch from above. The earthquakes of 2010 and 2011 changed many parts of Christchurch and a new revitalized city is now emerging. The city retains its 'Garden City' status and Hagley Park should be easy to identify near the city centre. To the east is Banks Peninsula, and the volcanic crater harbours of Lyttleton and Akaroa. Fly north to Kaikoura and hopefully you may see seals, whales and more mountain views. Land in Blenheim and visit the Omaka Aviation Heritage Centre to see Sir Peter Jackson's collection of First World War aircraft displayed in stunning theatrical sets created by Weta Workshops. A short coach drive away is the pretty town of Havelock. Join a cruise boat for a pleasant afternoon exploring picturesque Pelorus Sound. Visit a mussel farm and enjoy a chance to try mussels with Marlborough wine – perhaps a local Sauvignon Blanc! Return to Blenheim by coach this afternoon.
CHATEAU MARLBOROUGH (5-star)
Day 10 DC3 flight
BLENHEIM to WELLINGTON – Breakfast & Dinner
The Marlborough region is a leader in wine production, horticulture and forestry. Marine farming is also well-established and 80% of New Zealand's aquaculture production occurs here. Enjoy a morning exploring Marlborough's culinary and 'foodie' delights… First is a visit to the Blenheim Farmers market to try out some local produce, then call into a significant local winery for a tasting opportunity. Next is a stop at the renowned Moa Brewery for a tasting (if you wish) then a visit to the fascinating Makana Confectionery for handmade chocolates. Relax afterwards with a lunch break opportunity before your coach returns you to Blenheim to board your DC3 for the short flight across Cook Strait early this afternoon. Land at Wellington Airport where a coach will meet you for a highlights tour of the Capital City. Your sightseeing tour will include the waterfront and Wellington Harbour, Mount Victoria, the National Museum of New Zealand – Te Papa Tongarewa, the downtown area and the Parliament Precinct.
AMORA HOTEL (4-star)
Day 11 TWO DC3 flights
WELLINGTON to NAPIER, ROTORUA – Breakfast & Dinner
Return to Wellington Airport by coach and board your DC3. Fly towards the northeast and land at Napier in the Hawkes Bay region. A coach will meet you for a highlights tour of Napier City, rebuilt in the 1930's following a devastating earthquake in February 1931 that levelled the central city. Today Napier is a world heritage site for Art Deco styled architecture and the city enjoys a climate that frequently brings warm, dry sunny days – a climate perfect for local wine production. Enjoy a 'highlights' tour of the city and local region including Art Deco architecture, local attractions and vineyards. Take off again and fly north to meet the central North Island volcanic plateau. See Lake Taupo (620 square kilometres), the largest lake in New Zealand and the largest freshwater lake in the Southern Hemisphere. Your DC3 flight continues north to land in Rotorua. On arrival a coach will meet you for a visit to 'Te Puia' – a geothermal wonderland and home to the Maori Art and Craft Institute, Whakarewarewa Geothermal Valley, Pohutu Geyser and more. This evening, enjoy a final dinner and a spectacular Maori Show.
DISTINCTION HOTEL ROTORUA (4-star)
Day 12 DC3 flight
ROTORUA to AUCKLAND – Breakfast
Enjoy a morning of Rotorua sightseeing. See Rainbow Springs, home to a variety of New Zealand's unique natural inhabitants. Visit Rotorua Museum to discover the region's rich culture and dramatic natural history and enjoy views of the city and Lake Rotorua from the building once known as Rotorua City's iconic Bath House. Follow that with the fun of the Agrodome and see the famous Farm Show and its talented animal cast.
This afternoon, board your DC3 for the last time and fly to Auckland Airport. Arrive at the Sky Care Terminal around mid-afternoon where it will be time to conclude your New Zealand Air Tour adventure and say goodbye to new found friends.